Well I hope you all enjoyed my first blog. I know it was a little rambling, but I just wanted to set the scene.
So...
How did the car feel initially?
Well when we picked the car up from Vantage Hyundai Oldham. The first thing I noticed was the build quality has massively improved since my 60 plate i20. The car feels of a higher quality overall, BUT the cheap plastics in the dashboard and interior are really the only thing that I feel keeps the car down.
http://www.vantagemotorgroup.co.uk/hyun ... us/oldham/
There is a nice two tone plastic thing going on in the interior to try and distract you from the use of cheap plastics, but it just doesn't work.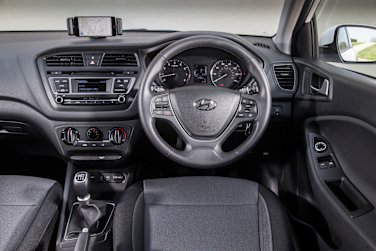 The seats are much better, and are more bucket in type, but not too constrictive, even for "larger" people (which I fall into...) They hold you nicely, and when cornering, you don't feel like you are falling out of your seat, like you do in my 60 plate i20.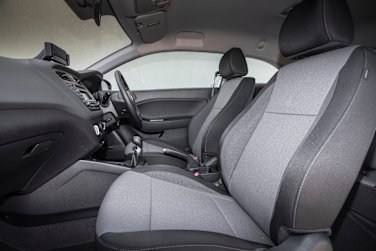 When we got the car home, we had a look at the boot, and had a shock..! - "How small is the boot!" said my partner, and I was shocked how small it was, knowing how much stuff we needed to take away on holiday.
The mother in law came out to have a look, and she knows nothing about cars, but looked at the tab in the boot, and instantly revealed a fake floor in the boot, showing the boot was about another 3-4" deeper than we thought. Quite a nice touch I think, where you could put things like fold up chairs, umbrellas, etc, keeping the main boot free for shopping, tents, bags, and normal stuff we all have in our boot.
How does the car drive?
This was where I got the biggest surprise. We have a 1.2L petrol, and comparing to my 60 plate i20, the new car is about 150Kg heavier, with a similar power output.
Like most small engines you have to really give them some stick to keep them torque, and this new car is the same, but...and this is a big BUT, when you are up around 60mph, and you need to do a quick overtake, or need some power, the car doesn't seem to have any. It seems to have run out of torque, and takes forever to get upto 70mph.
The car engine seems to have been designed with MPG as the ultimate goal, and I think the balance has been put to far on the MPG side, and not the driver pleasure.
On the drive from Manchester to Portsmouth, about 250mile, we have used less than half a tank, and about 51mpg. When we fill the car, we can calculate this using real figures, and confirm in later blogs.
I am not saying its all doom and gloom, once you are upto motorway speed, and click in the cruise control, the car sits, VERY comfortably at speed, and feels a lot slower than you are actually travelling.
I have to admit, 70mph feels more like 50mph, which I put down the excellent smooth suspension and added weight of the car, which makes it feel a lot more planted to the ground.
Readers of this site, will have seen comments about the 60plate i20, concerning the feeling about the rear end feeling really loose when heavy braking, or driving "enthusiastically", but I can safely say, this new i20 feels a LOT more safe, and a lot safer under heavy braking.
Conclusion
So overall, our initial view is the car is of a very high standard, let down only by the poor use of plastics in the dash, and the ultra eco 1.2 engine, but apart from that, its a very comfortable car, suited to short journeys, but can cope with long journeys, if needed.
What about day 3?
We are off to the National Motor Museum, and the Top Gear Museum at Beaulieu.
https://www.beaulieu.co.uk/
So we aim to get some nice shots of the car in the historic grounds.
We have put some photos to accompany this blog on todays facebook post.
https://www.facebook.com/HyundaiClub/